00:26:30 Sunday November 23 2014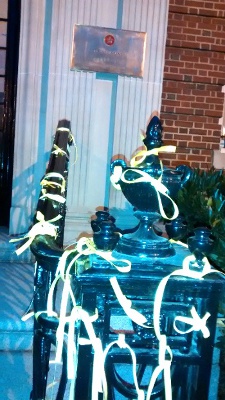 October
1st

- We tied our yellow ribbons around the Hong Kong Economic and Trade Office and marched together in solidarity with the protesters in Hong Kong to the White House, our umbrellas open on a warm dry night. As John Locke taught us governments govern with the consent of the governed.



5th

- Attended the closing ceremonies of the 2014 Bentzen Ball Comedy Festival with Sara, Rachel, and Ben. We saw some great comedy and some not-so-great comedy. Highlights included Tig Notaro and Birds!



10th

- For our proper anniversary we kept it simple and had a nice dinner at Fiola. The service was excellent and we learned of our server's fascination with the Roman satirist Aulus Persius Flaccus.



17th - 19th

- Our 5th wedding anniversary, observed.



Bed and breakfast at Rixey Manor for the weekend. Isadora and Ben were fantastic hosts. They have a great place and it will be amazing when they finish restoring it.


Strolled the streets of Culpeper, a cute little Virginia town, in search of coffee, bread, and cheese.


Took our bread and cheese as a picnic lunch while we hiked the Whiteoak Canyon Trail in Shenandoah National Park. It passes passes not one, not two, but six waterfalls.


Dinners at Lucio and Culpeper Thai. Wine at Early Mountain Vineyard.


A long drive to see the fall foliage along Skyline Drive Scenic Highway as it winds its way along the ridge of the Blue Ridge Mountains.


We took the long way back to DC by way of a visit to Thomas Jefferson's Monticello



21st

- Remember that art exhibition that Katie set up back in September? Well we went to see it. "Art as Research" at the George Mason University Fine Arts Gallery. We just happened to arrive as a class was touring with their professors so we got to hear the professors and students discuss the work. Very interesting.



22nd

- Had a few beers with Dulaney at the local pub. Haven't seen him in a while. It was good to catch up.



26th

- Went down to the mall and visited the United States Botanic Garden. At The National Museum of the American Indian we had delicious native foods for lunch before taking in the exhibits.



27th

- Another visit with someone from the past. We had Monday night trivia with Lita. I mean, she doesn't call herself Lita any more, but if you had only read some truly ancient entries in this log you wouldn't know any other name.



30th

- Went to go see General Wesley Clark speak at Politics and Prose just up the street a couple neighborhoods.